Weekly Jab: Edition #10
Bulls and bears wrestle between $10k and $10.5k
Announcements
New Podcast Episode

New Forbes Articles

Indicator Updates

As with all things in life, you must constantly evolve and improve. With that said, we have been working tirelessly behind the scenes to enhance our analytics to be more robust to the ever changing tides of the market.

Specifically, we have sunset the Hurst Exponent and v1.0 of risk indicator.

Moving forward, we will be curating two enhanced indicators — Momentum and Risk. Momentum will replace Hurst and risk v2.0 will replace the original risk indicator (still called risk indicator).

For reference — Momentum and risk indicators will still have values between 0 and 1, and:

Value > 0.65 — Signals a potential price decrease, i.e. overbought or caution

Value < 0.35 — Signals a potential price increase, i.e. oversold or bullish

Momentum indicator will capture the larger picture market trends, thus a longer time frame, i.e. macro, indicator of current price trends and reversal levels.

Risk indicator will capture more granular trends, thus shorter time frame, i.e. micro, indicator of current price trends and reversal levels.
Momentum Indicator
Currently, the momentum indicator (MI) sits at 0.69, falling from its peak of 0.80, last week.
Given the elevated levels, the macro picture offered by MI still suggests caution despite the current price reprieve. Once the indicator clears (< 0.35), we expect a resumption of the longer-term bull trend.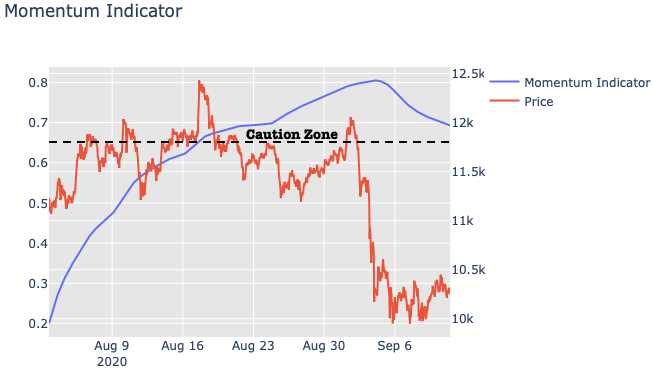 Risk Indicator
Currently, the risk indicator (RI) sits at 0.57, falling from its peak of 0.69, last week.
RI touched 0.42 during last week's selloff, but has since climbed back to near overbought levels as bitcoin has received an anticipated bounce.
However, the level remains too high for a sustainable rally, thus we expect further price weakness at worst, or range trading (similar to post-halving) between $10,000 - $11,000 at best until the indicator clears.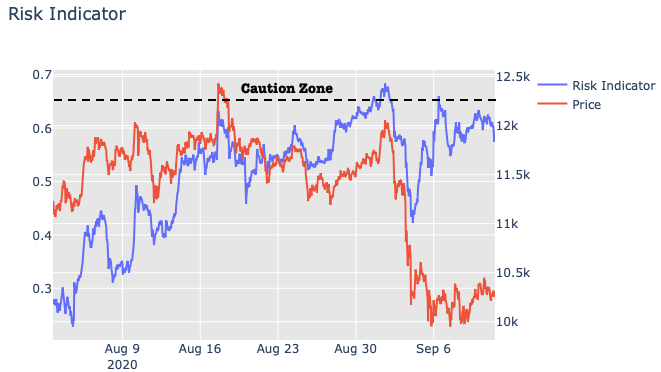 Technical Analysis
The 4-hour chart has recovered from last week's drop with both RSI and VFI trending upward, coupled with price above the 20-period moving average. If the current momentum holds, price could easily retest Cloud resistance ranges between $10,500 and $11,000.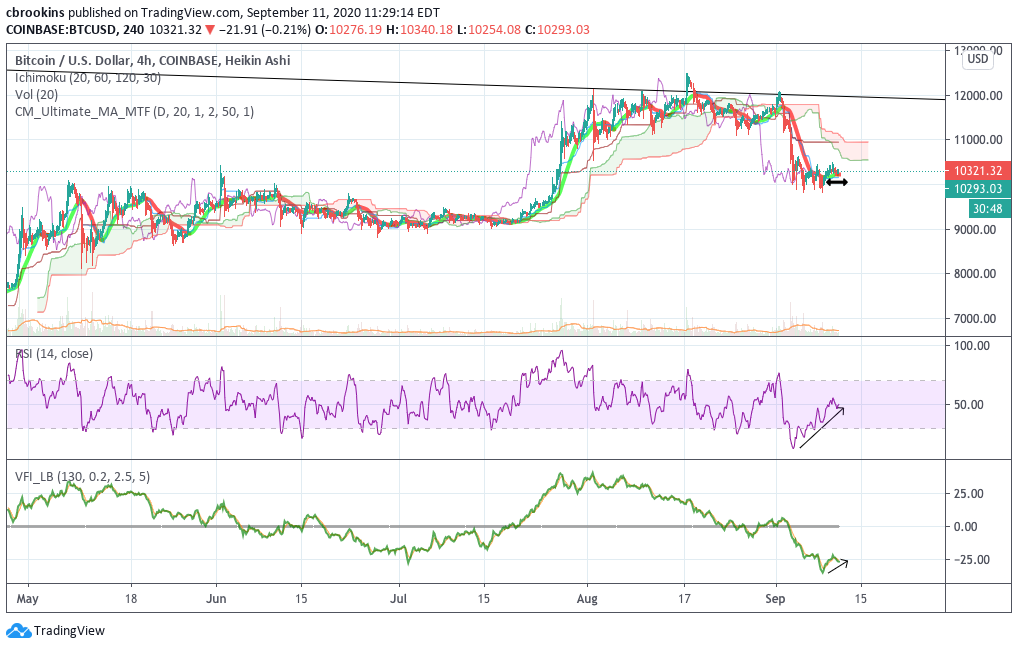 The 1-day chart offers a similar picture with VFI holding above 0 and RSI recovering from slightly oversold territory. However, price has fallen into the Cloud, which has resulted in further declines beneath the Cloud, i.e. lower prices, the last 4 times this has occurred.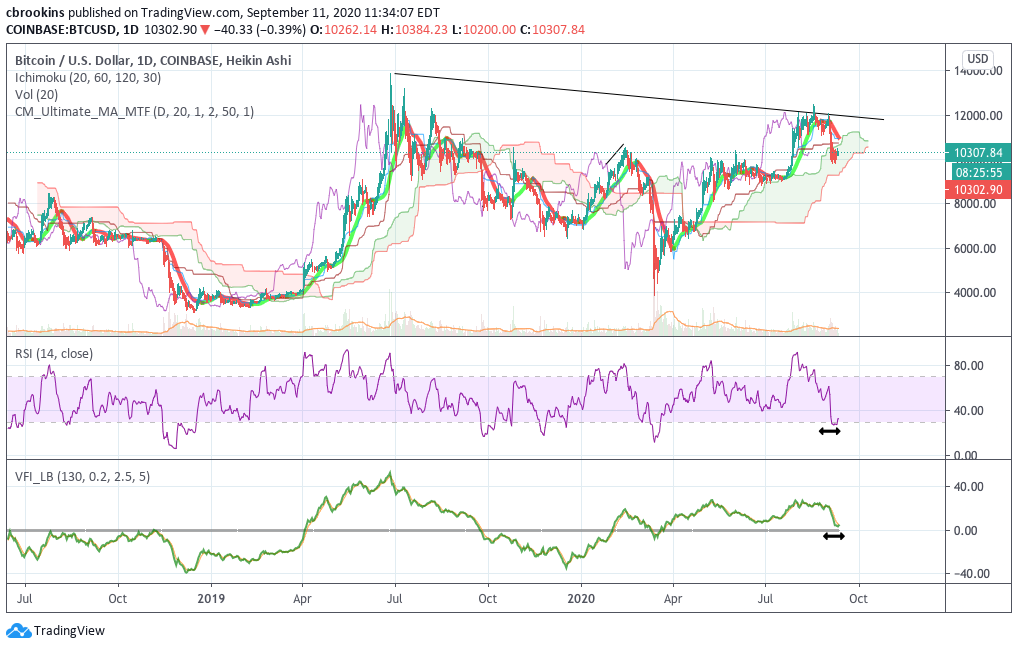 Additionally, on the 1-day chart, elevated futures open interest on BitMex derivatives exchange has coincided with price drops, but has fallen to 3 month lows, which could pave the way for upward momentum. However, on balance volume appears to be running into resistance.
On the weekly chart, price has relinquished the critical $11,500 support level, but is being buoyed by the 20-period moving average currently. However, a fall back to $8,800 or worse cannot be ruled out given each time price has dropped into the Cloud, it has fallen back beneath.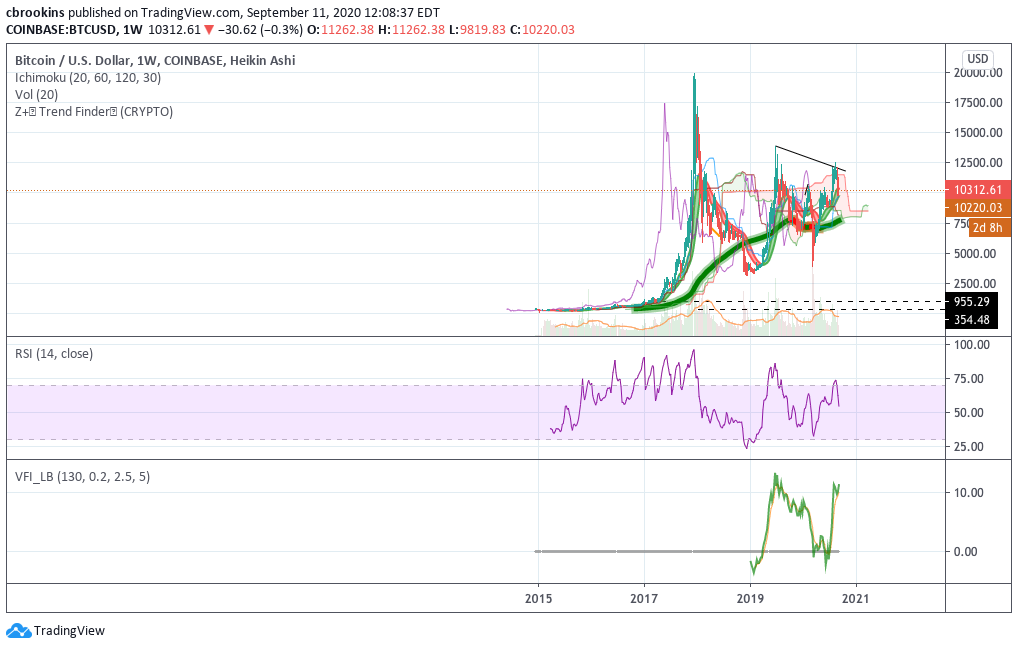 Macro Correlations
On the 4 hour chart, the dollar index (DXY) continues to maintain its Kumo Breakout and positive price trend. The dollar has completed Kumo breakouts prior, but failed to hold them. If the dollar can hold above and move higher, bitcoin seems primed to suffer along with other store of value assets like gold.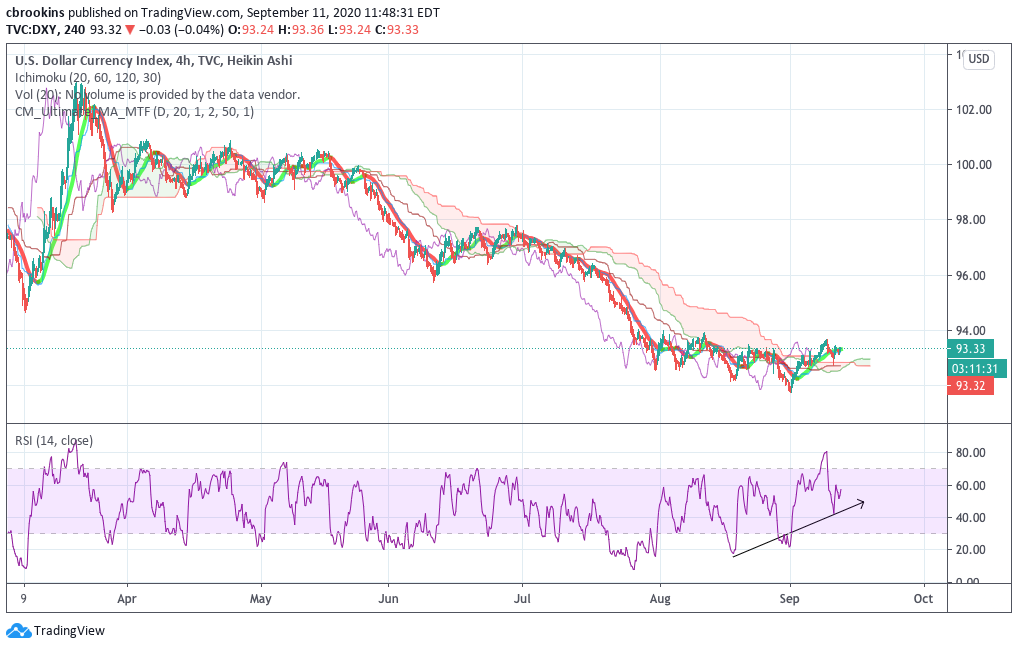 Summary
The momentum and risk indicators, longer-term technical analysis, and dollar index offer a cautious outlook.
However, near-term technical analysis paints a more optimistic picture, especially if price can range trade rather than decline before its next up move, similar to post-halving.
As always, we will continue to provide real-time updates in the Telegram channel when they become available. Sign-up here.

Onward and upward,

Chris
-----