Weekly Jab: Edition #11
Bulls reclaim $11k as risk indicators soften
Announcements
New Podcast Episode

New Forbes Articles

Quick Refresher

Our quantitative indicators have a value between 0 and 1 with certain levels providing key insights.

Value > 0.65 — A price decline of at least 15% is forthcoming (overbought)
Value < 0.35 — A price increase of at least 15% is forthcoming (oversold)

The easiest way to interpret the above information is that each indicator's value is the probability of either a bull or bear reversal occurring.

For example, a momentum indicator value of 0.70 is equivalent to saying "There is a 70% chance of a bearish reversal."

Or, a momentum indicator value of 0.20 is equivalent to saying " There is an 80% (1 - 0.20) chance of a bullish reversal." 
Momentum Indicator
Currently, the momentum indicator (MI) has fallen to 0.64. The current level is now slightly beneath overbought territory, but still too elevated to signal a sustained recovery in price.
Although there was one occasion when MI fell from overbought levels, slightly, then pushed back into overbought territory, e.g. Summer 2019, that instance appears to be the exception rather than the rule.
However, despite the small sample size for the above scenario (n=1), we'll continue to monitor the macro picture as it evolves. Once MI clears (< 0.35), that will present the highest probability of a sustained resumption of the bull trend.
Risk Indicator
The risk indicator (RI) sits at 0.56 and has begun to form a downtrend despite price's current reprieve, i.e. a divergence between price and RI.
Divergences between price and RI eventually dissipate over time. For example, 3 weeks ago, there was a brief divergence before RI began trending higher and price eventually followed.
The current divergence with RI trending downward and price upward could suggest that price may eventually follow suit to the downside. However, again, the sample size is too small to place a large weight on this outcome.
Regardless, once RI clears (< 0.35), that will present the highest probability of a near-term (micro) buy signal.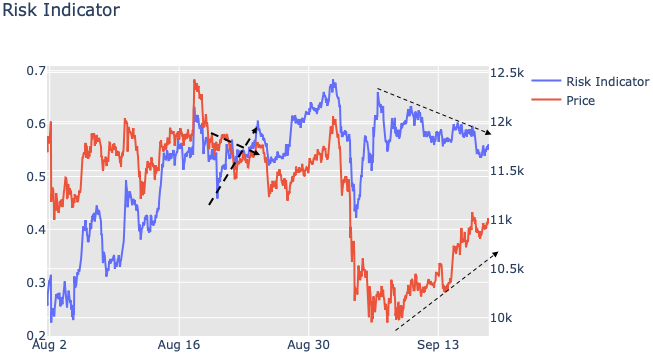 Technical Analysis
The 4-hour chart has recovered strongly from last week's drop with price on the doorstep of a Kumo breakout. However, initial signs of buyer exhaustion are surfacing with a potential bearish divergence on RSI and VFI, coupled with initial failed attempts to break above the Cloud at $11,000.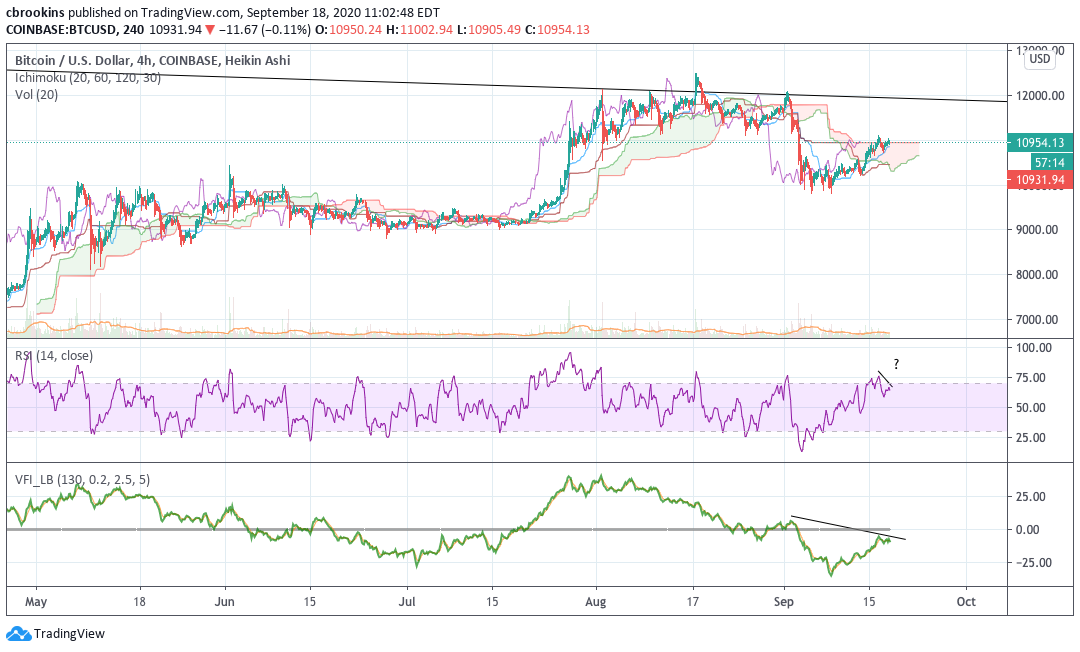 The 1-day chart demonstrates a similarly bullish picture with RSI recovering strongly from touching oversold levels, coupled with appearing to break its prior downtrend. Also, VFI has managed to stay above 0, which is bullish.
However, price remains confined within the Cloud, currently attempting to breakout above $11,000. If price cannot re-complete a Kumo breakout, near-term targets include $10,300.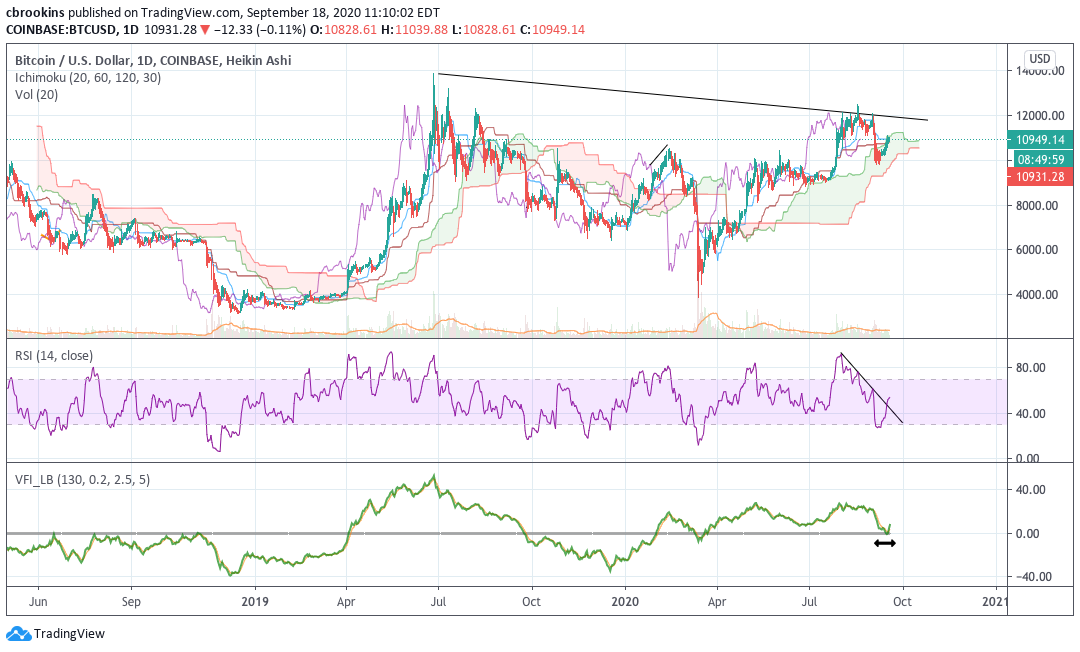 The weekly chart remains neutral despite the current reprieve. Price remains confined within the Cloud after bouncing off support. If price can reclaim $11,500, the bulls will be firmly back in control. TBD.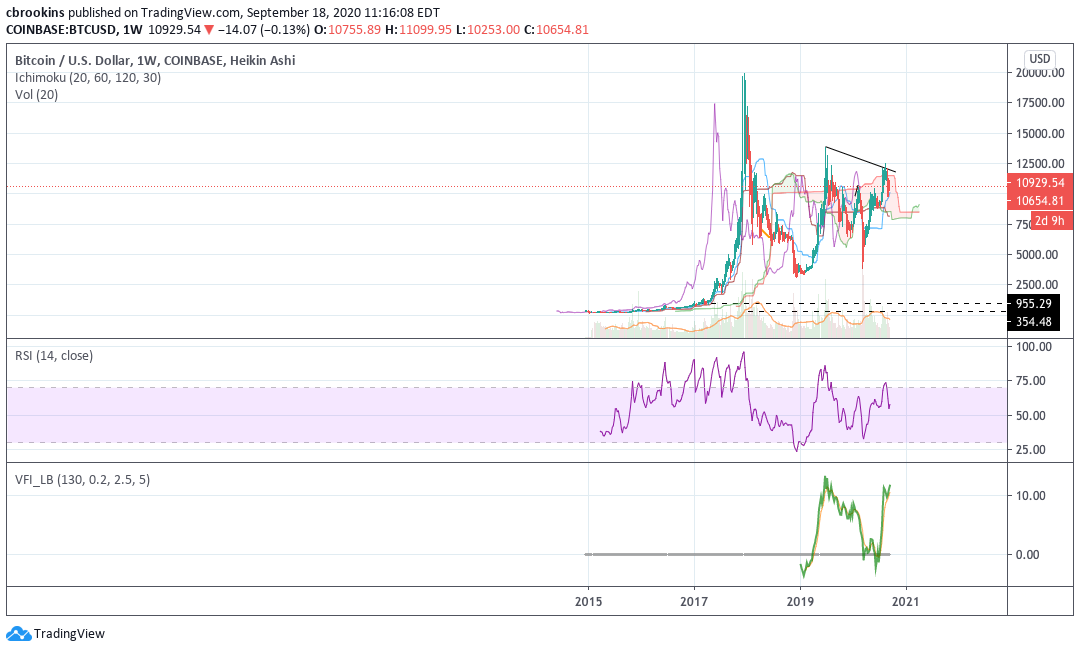 Macro Correlations
On the 4 hour chart, the dollar index (DXY) continues to flirt with a sustained Kumo breakout and fresh uptrend. However, the dollar rally is far from certain given the Federal Reserve seemingly makes an announcement that weakens the uptrend every week. TBD.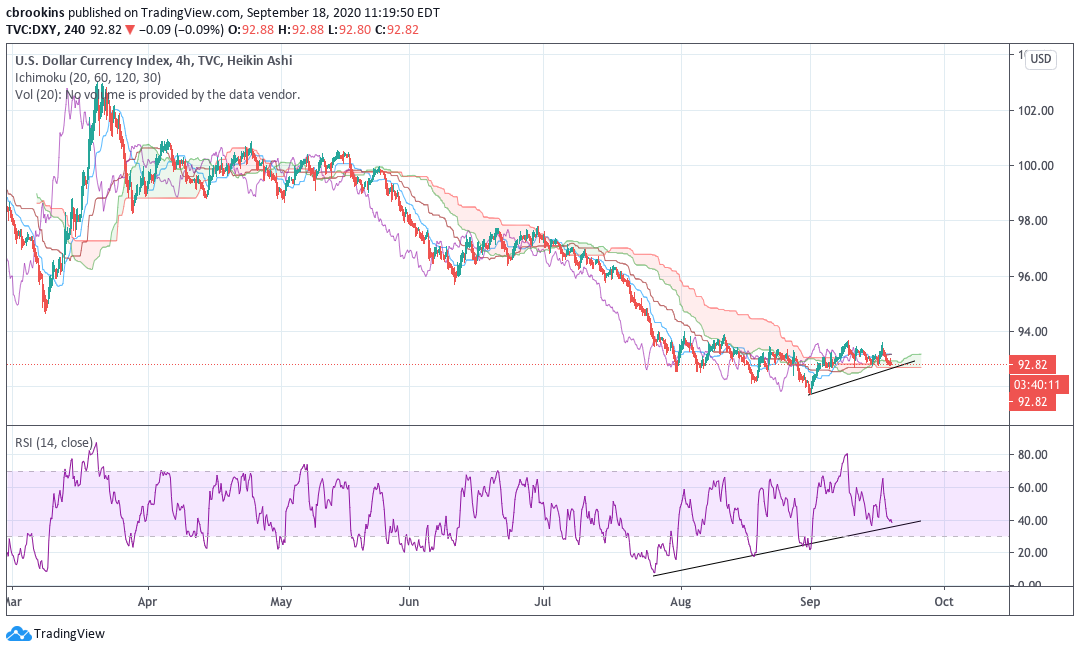 Summary
The momentum and risk indicators offer a cautious outlook whereas technical analysis and dollar correlation present a more bullish outlook in the near-term.
The speed of this market is incredible, thus we'll continue to monitor developments as next week will surely look different than now.
As always, we will continue to provide real-time updates in the Telegram channel when they become available. Sign-up here.

Onward and upward,

Chris
-----